Marble Kitchen Counter Top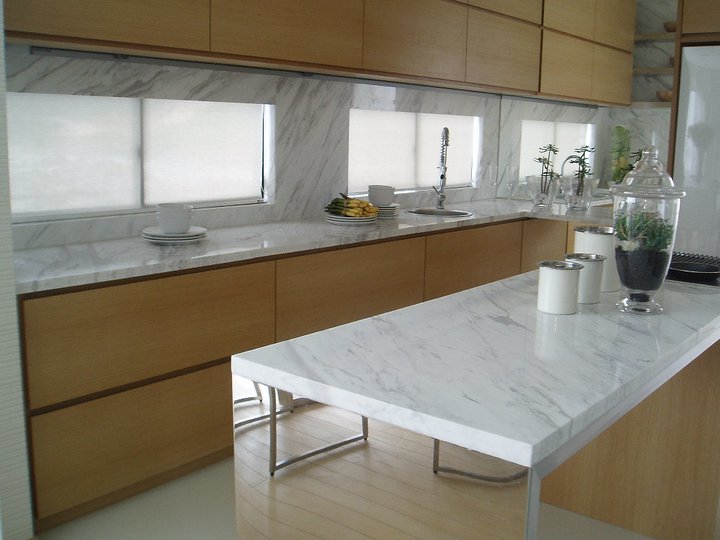 Marble stone is formed from limestone, super-heated to form its unique crystalline structure. Marble traditionally features swirls and "veins" of colors and such surfaces are timeless with their classic beauty and elegance. If you are looking for a surface to sustain through the ages, this natural stone counter top material is perfect for you. Its naturally cool temperature is pleasing for cooking as well as keeping any work spaces temperature controlled. In fact, those that love to bake will enjoy having a marble kitchen top to work on. It's smooth, cool surface is perfect for making pie crusts and kneading dough.
However, this calcite crystal is vulnerable to attack by mild acids, including those commonly found in kitchen and bar settings. The user selecting marble for these applications should be aware of, and accepting of the maintenance and patina that is to be anticipated with this combination. Alcohol, coffee, and citrus can leave large dull spots if they're not wiped immediately. You'll need to constantly use cutting boards and coaster for acidic food. When using detergent to clean a marble counter top, mild and non-acidic cleaners are recommended.
Due to its metamorphic component, marble should not be exposed to high heat. Therefore, it is suggested that hot pad or trivet to be placed on the surfaces under cooking units (e.g. crock pots, roaster ovens) and hot pots and pans. To protect your marble counter top from stains, it is advisable to clean and seal the marble on a routine basis. Although sealing does not make the stone stain proof, rather it makes the stone more stain resistant. However, if a sealer is applied in a food preparation area, be sure that it is non-toxic and safe for use. Besides extra care by sealing the marble counter top, Clean stains and spills from your marble counter top immediately or the substances may soak completely into your marble.