Solid Surface Kitchen Counter Tops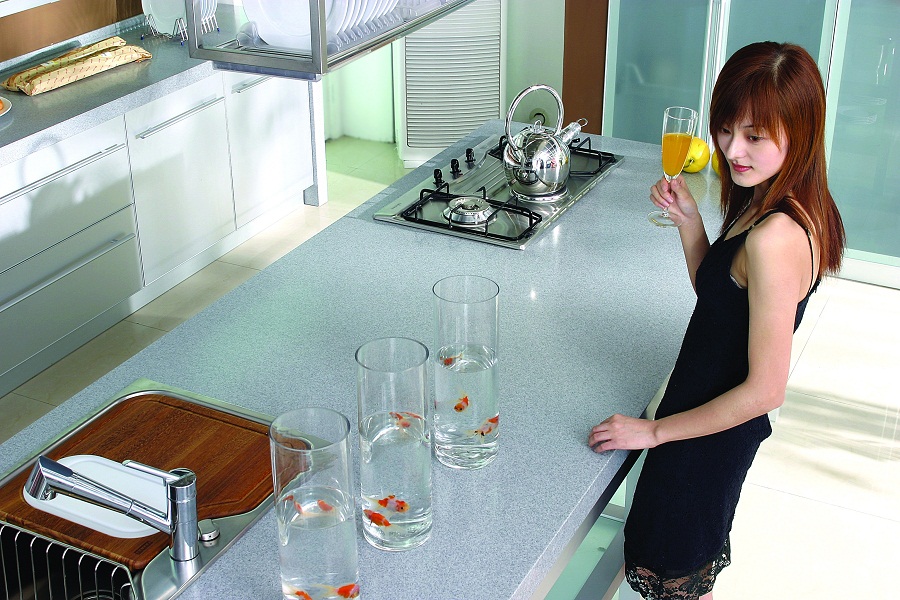 Made from natural minerals and high-performance acrylic, solid surface is non-porous, stain-resistant and bacteria-resistant. As such, solid surface counter tops is the perfect choice for various environment, especially kitchen where the surfaces are always open to bacteria and dirt. Besides, solid surfaces are low maintenance materials where they can be repaired instantly with a little buffing; any blemishes such stain can be removed with soap water; cuts and scrapes can be removed by sanding or mild abrasives so that the surface would look brand new again.
Moreover, solid surfaces can even be molded into any shape and come in a wide variety of patterns and colors. From matte to high gloss, granite-looking to translucent, you can have wider choices of design for your kitchen as compared to natural stones. As the price for solid surface is much more affordable compared to natural stone counter tops like Quartz and Granite, it has now gained popularity among the house owners in Malaysia. Solid surfaces can just easily integrated into your design seamlessly.
However, they are highly susceptible to scratches and have less heat resistance as compared to granite or quartz. So, it's highly discouraged to keep any hot pans on the surface, but then again why would you do that? A hot pad or trivet under hot pans and pots would definitely protect your solid surfaces. If any residue stains cannot be rinsed or removed away with normal household cleaners, use powdered abrasive cleaners and/or a nylon plastic scrubbing pad.
For house owners with slightly tighter budget, choosing solid surface counter top is very much sufficient for daily kitchen use. What makes solid surfaces special? It is perfectly hygienic, and the variety of designs are just too amazing.
Other information that you might be interested:
Quartz Stone Kitchen Counter Top